Over the years we have received many letters from grateful families. Below is a brief sampling. References available upon request.
---
To the Staff at Sherwood Oaks,
The entire Cleary family would like to express our thanks and gratitude for the loving care that you all extended to my father Bob Cleary during the past seven months. I, along with my mother, will miss you all and your kindness not only towards my dad but towards our family as well. I am so impressed by the level of professionalism at Sherwood Oaks.
It was a very difficult decision for our family to have dad cared for outside of moms home, but I now know that we made the right choice. Please know that we will always think fondly of each and every person involved in dad's case – he would have loved you all too.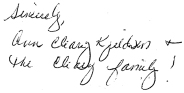 ---
Sherwood Oaks Health Center Staff
The Nelson Family (Charlie, Bonnie, Karen and Gary) would like to thank all the staff for their outstanding care that you provided for our mother Lillian Nelson during her stay at your facility.
The care that you provided for our mother made her stay at the home very comfortable for her.
Lillian had many disabilities that your staff addressed and provided care for her. Lillian required a lot of attention and the staff at the facility went far out of their way to take care of her.
Our family thanks you for all that you did for Lillian.

---
Sherwood Oaks,
Thanks to all of you who helped my mom Arlene for the past four years.
You were wonderful!
I feel mom really enjoyed her time there, and I appreciate everything you did for her.
I also miss everyone, and will come back soon.

---
All in a day's work
Editor- "He saved my life!"
My friend was sitting up in her bed surrounded by her favorite stuffed animals, and she was telling me about the day she came to Sherwood Oaks from the hospital because she was too frail and weak to go home. "I didn't think I would make it through the night," she told me. I was so weak and tired, and I was having a hard time breathing. This young Hispanic man pulled up a chair in my doorway and sat there all through the night to make sure I was breathing. I only know his name was Tony. It gave me comfort to just know he was there _ and look at me! I'm still here!" I kissed her goodbye and went out in the hallway and saw a young Hispanic man. "Are you Tony?" I asked him. When he said yes, I asked him to come with me.
We went back into my friend's room. "Is this the man you were telling me about?" I asked. When she nodded yes, I told her to tell him what she had told me. "You saved my life that night," she said. Tony smiled and pointed upwards, "No ," he whispered. "He did!" As I wiped the tears from my eyes, I gave this kindly man a hug, and we walked out of the room together. "Tony," I said, "what you did was a wonderful thing and it made a big difference in the life of that lady, a stranger to you, but not anymore." He simply smiled at me and went about his work.
Diane Semans, Mendocino
---
To the Staff of Sherwood Oaks,
The family of Evelina Alexander would like to thank the unparalleled staff of Sherwood Oaks for the professional and loving care they provided our mother and grandmother Evelina.
Sherwood Oaks became her true home where she felt safe, comfortable, and probably most important loved and needed. She so enjoyed her duties as the resident "Portuguese" Interpreter "and" helping the staff through guidance on the "required disposition" of all things associated with her &Ruby's room. You made her feel like a "Queen."
Living great distances from Ft. Bragg, we could not be with our mother as much as we would have liked, but it was comforting to know that she was getting the best care ever and was in such a loving environment.

---
To Sherwood Oaks Staff,
Thank you so much for all the T.L.C to Irene.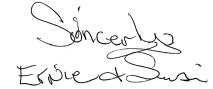 ---
"Yes Virginia, there are Angels"
…and they work at Sherwood Oak's.
Our family would like to thank each one of them for the care that they gave to our Mother/Grandmother/Great Grandmother Dawn Hanson.
We are saddened to say our mom passed away on September 5th, 2007 at Sherwood Oaks. The staff at Sherwood Oaks are all remarkable people and have loving hearts. Thank you for caring and showing your love to what we would consider the best Mom in the world!
"We love you Mom."
Thank You
Steve Hansen & Family, Jan Whakey & Family, Charlene Haymes & Family
---
Well Cared for
EDITOR- My mom recently passed away at Sherwood Oaks. I know what comes to mind when you think of a nursing home, but Sherwood Oaks was really a wonderful experience. The staff is cheerful, accommodating, informative and kind. The residents there are cared for like they are family.
I used to tell mom it was like a cruise ship for the elderly. There are all kinds of activities and you can get involved as little or as much as you want. The food is served to you so you don't have to cook. You don't have to clean your room or do your laundry, it's all done for you.
Also I would like to thank the Hospice workers who visit Sherwood Oaks regularly. They sit and talk to those who need company. I would also like to thank Dr. Harris. She came to Sherwood Oaks and helped me and mom with the transition we all come to.
Virginia Taylor, Fort Bragg
---
The family of Lloyd Lowe wish to thank everyone who sent cards, flowers and their prayers and to those who joined us in the celebration of life. A special thanks to Dr. Berenson and Dr. Lister and a very special-special thanks to the nurses and nurses' aides and everyone at Sherwood Oaks.
God bless you all
Sandy, Jimmy, Michael, Darrel and sister Phylis
---
To the staff at Sherwood Oaks,
I want you to know how much I appreciate all you did to make my mother feel special and much loved. I was apprehensive about her going to the nursing home, but I needed not to have worried. You the staff are wonderful and caring people. I was so in luck to have you a part of my mother's life the last year and a half.
May you always think of my mother fondly.
Thank you,
Linda Benedetti Sousa The daughter of Virginia Benedetti

---
Mr. Joe Redding
Dear Joe:
I wanted to take the time and let you know, that the May Day Luncheon would not have been a success had I not had the help of your wonderful staff. It is without question that if Virginia, Lulu, Tony, Angela, Charma, Raquel and her daughter Diana were not there, it would not have been a hit. The Auxiliary is grateful for all their help as they are not physically able to the things they do.
We appreciate the fact that they took time out of their busy weekend to volunteer their services and provide this labor of love. This is commendable. You should be proud that though times are tough, you have an allegiant, committed staff that love what they do, and do what they love. No one can say otherwise.
The members of the Sherwood Oaks Auxiliary feel honored to have them in the organization, and will always hold them close to our hearts.

Charmaine Caster Sherwood Oaks Auxiliary
---
Dear Rebecca:
I saw many good interactions between staff and residents when I was there Friday and Saturday. The Resident assisted and encouraged to use her keyboard was particularly touching and good for all of those who heard her play. The Easter egg hunt for the kids was good for kids, staff, Residents, and the Easter Bunny! Having worked in the field for 12 years, I know how challenging the job can be and I commend Sherwood Oaks. Mark and Ellen have known Betty a long time and I feel blessed that Betty has such good rapport with them and good care. The volunteer who speaks with her and helps with her nails is wonderful, also.
Betty stated she is happy with her room and that she thinks she'll stay there. The window is great and the room is bright. I think it was a good choice and move for her.

Maria Morris
---
Sherwood Oaks Health Center
(ATTN: Station One)
Dear Friends,
We would like to express our sincere thanks to each and every member of the Sherwood Oaks staff, and especially to those of you who work on Station One, and who helped with the care of Stella McGuckin in the final weeks of her life. Whatever would we have done without you?
Our friends Chris and Jeanne DeLucchi told us that your facility was exceptionally clean, and that they were most favorably impressed with the kindness and dedication of the staff. Having now experienced it ourselves, words fail to convey how impressed we are.
If we all had our choice, I expect we'd like to exit the planet at the end of a long, pleasant and pain-free life, in the midst of a happy dream, in the comfort of our own beds. Few of us get that wish. Our personal, second, back-up wish is that we will have a facility, and more importantly, a staff, as kind, gentle, patient and loving as the people we met at Sherwood Oaks. You gave Stella the best quality of life she could have had, right through to the last breath, and you kept us sane as well. You are truly angels and bodhisattvas in human form.
With love and gratitude,

Paul & Irene McGuckin
---
To the Nursing Staff @ Station 1, Amy and Lulu,
We would like to say thank you very much for your care and concern for our mother and grandmother Jean during her short stay with you. We know all of you enjoyed her very much and will miss her smile.
Lulu, thank you for keeping her active. She enjoyed playing bingo and getting those bingo bucks, listening to the music and the other activities. We will miss her too, also coming there to visit and seeing everyone.